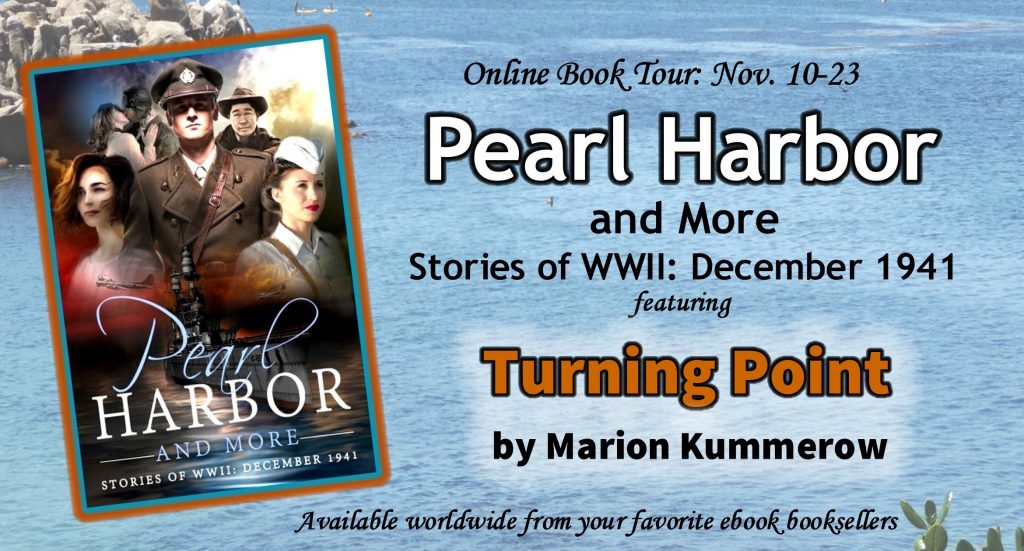 About PEARL HARBOR AND MORE
Stories of WWII: December 1941:
On December 7th 1941, a pivotal event took place that changed the face of World War II. Hundreds of Japanese fighter planes carried out a devastating surprise attack on the American naval base at Pearl Harbor in Hawaii. By December 11th, the United States was at war with the Axis Powers in the Pacific and European theaters. World War II raged for almost another four years, but the entry of the world's greatest economy into the conflict profoundly influenced its course.
This wide-ranging collection of eight stories by a diverse group of authors, who write wartime fiction, commemorates the 75th anniversary of the Battle of Pearl Harbor. Few people's lives were unaffected in some way by that fateful day and these stories reflect this. Some of them are set at Pearl Harbor itself, in other parts of the United States and in Singapore. Other stories take place in Europe: occupied France, Germany and Northern Ireland. They explore the experiences of U.S. servicemen and women, a German Jew, Japanese Americans, a French countess, an Ulster Home Guard, and many others.
We hope readers will enjoy our salute to the people and the events of this momentous era.
Available at the following online booksellers: 
Amazon USA  |  Amazon UK  |  Amazon CA  |  Amazon DE  |  Amazon AU
Nook  |  iTunes  |  Kobo  |  !Indigo  |  Books2Read
Featuring:
Turning Point
by Marion Kummerow:
Eighteen-year-old German Jew Margarete Rosenbaum is about to be sent to a labor camp, when a bomb hits the building she lives in. Emerging from the rubble she's presented with an unexpected opportunity. But how far is she willing to go to save her life?
Excerpt from Turning Point:
Berlin, December 1941
Margarete Rosenbaum knew it was wrong to eavesdrop, but when she heard her employer mention her name, she couldn't resist. Huddled against the wall, she held her breath and listened intently. It wasn't all that hard because both Herr and Frau Huber had raised their voices.
"Margarete must go," Herr Huber said to his wife.
"What's she done now?" Frau Huber inquired.
     I haven't done anything. I've been slogging for you rotten pack eighteen or more hours every single day for the past two years.
"She's a Jew." Margarete heard Herr Huber's stomping steps. Of course he wore his jackboots in the house. She would have to do a lot of cleaning once he left.
"That's the exact reason why we hired her as a domestic servant. We couldn't afford to pay the salary a German girl demands."
Margarete sniffed. Slave would be a more accurate word. Domestic servants received benefits like holidays and a decent salary, but not her. Still, working for the Hubers was better than the alternative . . . She shivered.
"I know, darling, but our Führer wants Germany to be free of Jews. And as SS Obersturmbannführer I have to set a good example. We send her away. This is my last word." Herr Huber's steps approached the door and Margarete backed away, but then she heard the pleading voice of Frau Huber and stopped to listen some more.
"Wolfgang, if Margarete leaves, who is going to do her chores around here? You certainly can't expect me to do them. Washing floors. Scrubbing laundry. Cooking. Dishes."
"We'll find another maid."
"Where? Do you honestly think any German Fräulein will work as much as Margarete does?"
A long pause ensued, and the only thing Margarete heard were cars passing on the street in front of the apartment building where the Hubers lived with their youngest daughter, Annegret, in a nice three-bedroom flat.
     Maybe he'll let his wife keep me?
But his next sentence destroyed her hopes. "The new maid doesn't have to be German. A girl from the occupied territories in the East would do. As long as she isn't Jewish, it won't be a problem."
Frau Huber sighed loudly. "Can Margarete at least stay until you find her replacement?"
Margarete fisted her hands. That spiteful woman wasn't asking because she was concerned about Margarete. No, her only concern was whether or not she would be expected to perform any of the household chores.
"Fine," Herr Huber agreed. Margarete didn't think it was fine, but then, she had no voice in this household. "She has to be gone by the end of the week. I'll arrange everything. We cannot risk being seen as Judenfreunde."
About the Marion Kummerow: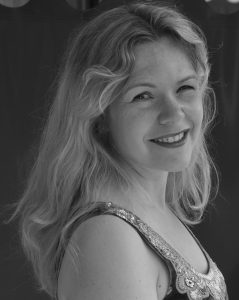 Marion Kummerow was born and raised in Germany, before she set out to "discover the world" and lived in various countries. In 1999 she returned to Germany and settled down in Munich where she's now living with her family.
After dipping her toes into the publishing waters with non-fiction books, she finally tackled the project dear to her heart. UNRELENTING is the story about her grandparents, who belonged to the German resistance and fought against the Nazi regime. It's a book about resilience, love and the courage to stand up and do the right thing.
Sign up for Marion's newsletter to receive exclusive background information and be the first one to know when a new book is released: kummerow.info/newsletter
You have already met Hilde and her son Volker in "Turning Point." Hilde will feature as main character in UNRELENTING and UNYIELDING, both full-length novels in Marion's World War 2 trilogy.
Connect with Marion Kummerow:
Website | Twitter | Facebook | Instagram | Amazon Page | Newsletter
Hashtag: #PearlMore
Labels: PEARL HARBOR AND MORE Stories of WWII December 1941, Marion Kummerow, Turning Point