Recently I visited the concentration camp in Bergen-Belsen that was hosting a temporary exhibition about Children in Concentration Camps.
The Bergen-Belsen Memorial Foundation has interviewed many children survivors and made the video interviews available in the exhibition. Even after so many years the now aged people are still emotionally disturbed when talking about their experiences.
I was moved to tears many times, and even though the interviews were harrowing, they also gave me hope for the future of humanity, since the interviewed survivors have chosen forgiveness over hate.
This is the first time the children survivors have been given their own voice, because for many decades scholars deemed them too young to be "trusted" witnesses. They may not have the same detailed memories like adults have, but nonetheless they are an important source of remembrance.
Many nameless children lived and died in the concentration camp, some were even born into the camp.
But you may recognize one name, probably the most famous inmate of Bergen Belsen: Anne Frank. She died here in March 1945 from typhus.The gravestone on the picture is just symbolic as the two sisters Margot and Anne Frank were buried in one of the mass graves for up to a thousand bodies.
In contrast to the exhibitions, the former camp grounds on the outside are a solemn, yet peaceful place. I know this sounds absurd, and I was amazed myself. I had expected to have the same eerie feeling of ghosts roaming the place that I feel every time I visit the KZ Dachau. But here I didn't sense any of this.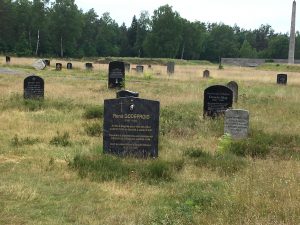 Nature has overgrown the place with grass and trees. Birds were singing.
This gives me the hope that the tortured souls have finally been able to move on to a better place.
If you ever happen to be near Hannover in Germany, it's definitely worth a visit, although it is not recommended for children younger than 12 years old.
The visit to Bergen-Belsen inspired me to write a novel about a young Jewish woman and her baby sister who were deported to Bergen-Belsen.
It's called Not Without My Sister and you can get it here: https://books2read.com/Sister