Why on earth should you sign up for yet another author newsletter?
Maybe because it has great information and makes you smile. 😍
Here's what one of my readers said:
"I wanted to thank you for sending out such a thoughtful, informative writer's newsletter. I receive many of these and yours is the first that I've read through twice and felt so happy each time." ~ Dori Lane
Ah well, and you'll receive a thank-you gift, just because I'm so happy to have you around.
Simply use the form below to sign up for my newsletter and DOWNED OVER GERMANY will be yours for free. Obviously you can sign up without having to download the short story.
___________________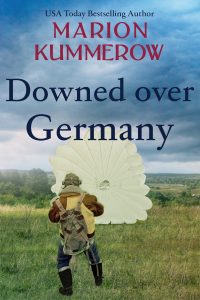 DOWNED OVER GERMANY
Prequel to the War Girl series
When the shell hits Tom's aircraft he just knows this will be a bad day
Shot down.
Stranded behind enemy lines.
This is not how British RAF pilot Tom Westlake expected his secret mission to pan out.
But he soon discovers that his day is about to become a lot worse…
Unwilling to surrender, he escapes his captors more times than he cares to count – until the Gestapo enters the chase.
In the hands of his deadliest enemy yet, will there be hope for him to survive?
___________________
Data Privacy:
Don't worry, I'll never give away, sell or loan your email address to anyone and you can always unsubscribe if you wish to leave. 👋
I request your first name, because I like to know to whom I'm talking 😃. But if you absolutely hate giving me your name, you can input a single letter or a generic word like "reader". Just be aware that I will then address you as "reader" in my emails. 😳
I usually send my newsletter bi-weekly on Thursdays, but sometimes I may skip an issue or send an extra issue if I have important, time-sensitive news.
Please find my complete privacy policy here: Privacy Policy.
Save
Save
Save
Save